For unto us a child is born, unto us a son is given: and the government shall be upon his shoulder: and his name shall be called Wonderful, Counsellor, The mighty God, The everlasting Father, The Prince of Peace. Isaiah 9:6
I love this time of year and this is the time of year I miss Okinawa the most. Thanksgiving started our busiest time on the field. The time between the third weekend in November and the 1st of January marks a lonely time for many of our service men and women and their families stationed overseas. Many people are looking for something that is real and lasting and Christmas was a time when they would get out of their homes and start "looking". What a perfect time to show them the perfect Saviour and teach them that He didn't come just to lay in a manger, but to die on a cross just for them! Hallelujah! What a Saviour!!
The time of year from Thanksgiving through New Years can be a difficult time to maintain your focus on those things that are important. TV, advertising, and the stores can make it seem like this time of year is about getting the latest gadget out there. It is easy to overspend, overeat, and overindulge. In the years before we adopted our children, I kept little ideas tucked away to help make Christmas about the One we are supposed to be celebrating and today I would like to share just a couple.
On Thanksgiving Day, we always make bread for the business' and neighbors who have been such a blessing to us; the bank, the landlord, the car dealer, the milk man, the bread man. We wanted them to know how thankful we were for their help and kindness. I remember the first year I gave our bread lady and her husband a loaf of my Harvest Bread. She just looked at me with big eyes and said, "For me?!"
After Thanksgiving is over, we decorate for Christmas. The manger scene in our home was always a great way to start the discussion about why Mary was with child and travelling a long distance on a donkey! I put the stable up with just the animals and a lone shepherd in attendance. One year I was babysitting a little boy and when he arrived at our home after Thanksgiving, he let us all know that Baby Jesus was missing. Our daughter looked at him and informed him that Jesus had not been born yet! I place Mary and Joseph around the house somewhere. Sometimes they are on a book case, sometimes in a corner on the floor, and sometimes on the fridge. Joseph has lost his head several times through the years as we would accidentally trip over him! Every few days they move. Our children always look to see where Mary and Joseph are spending the next few days. This allows us to have a discussion: What do you think they will do today? How do you think Mary feels today? What are they praying about as they travel? How long does it take to get to Bethlehem? Why did they have to go to Bethlehem? Why was it so important that it be Bethelem anyway?...You get the idea. On Christmas Eve Mary and Joseph have arrived at the inn where there is no room. When I fill the stockings after everyone is in bed (my favorite job), I get to put Baby Jesus in the manger. Believe it or not, our children always ran to check out the manger before their stockings!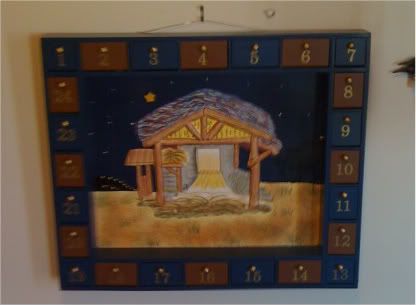 One of the other things I did was to look high and low for a proper advent calendar. I found one that you hang on the wall. It has a metal background and as you take each piece of the scene out of its numbered box, you place the piece on the background.
We always make goody plates for our neighbors. The first year in the Azores, our neighbors were so suspicious of us. Christa and I baked for days, gave the goodies out, and prepared for our Christmas Open House. Many of the older people didn't want to take the goodies, but we just kept going back. What an opportunity to show the love of the Lord. We were invited into two homes for that Christmas! It gave us an opportunity to share just why we moved away from America to Portugal. In Okinawa, they do not celebrate Christmas with Jesus. It is all about Santa Claus and presents. It is sad to see some of the empty things we have passed on to other cultures around the world. We still made goodies for our neighbors and talked about our Saviour. On Christmas Day Evening, we always had an open house for our people to bring their families and have a great time of fellowship. These families miss their loved ones in America. Cards and gifts are nice, but not as wonderful as having human fellowship and companionship.
Last year was our first Christmas in the States in a long time. I noticed that we as Americans and even many Christians have no idea about making this time of year special or why we celebrate it. It seems so empty to make it about presents. Life holds so much more and God wants us to have it. We miss what He wants to give by using things to replace a relationship. Recently I heard a Christian say that they didn't like the fact that Christmas was on a Sunday this year as it meant they had to wait to open gifts. I believe that thinking makes the Lord very sad. Let's talk about Jesus this year!!